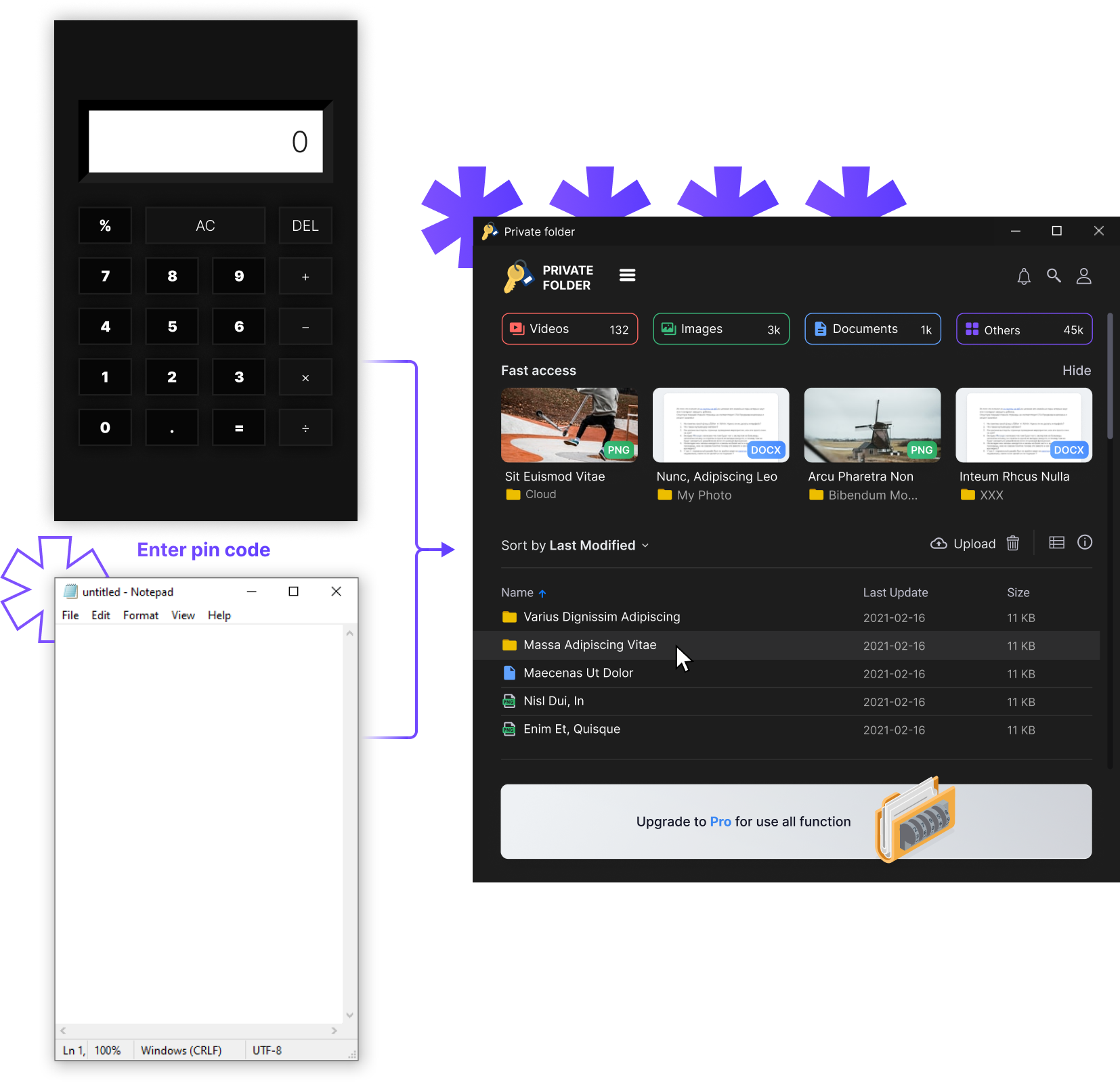 Easy To Use Private Folder
Skip the hassle of complicated app controls and move to an easy-to-use app offering smooth Drag & Drop features. We have taken special measures to ensure that you can access and use all the features you love with ease. Save time and protect your private files from intruders by following three simple steps:
Drag and Drop or Upload any images, videos or files to hid in the app
Pick a mask app icon to hide the private folder and set up a pin code
Get active alerts of any break in along with snapshots of the intruder
All Features You Love In A Private App and Even More…
From multiple-file support and in-app file preview to intruder alert and powerful search features, this app has got it all for you. Use the in-app preview to see any file privately. Save your time and search any file easily through the powerful search bar or your favorites section. On top of that, this app also offers you a built-in media player, in-app file previews and break-in alerts, so you can maximize your privacy.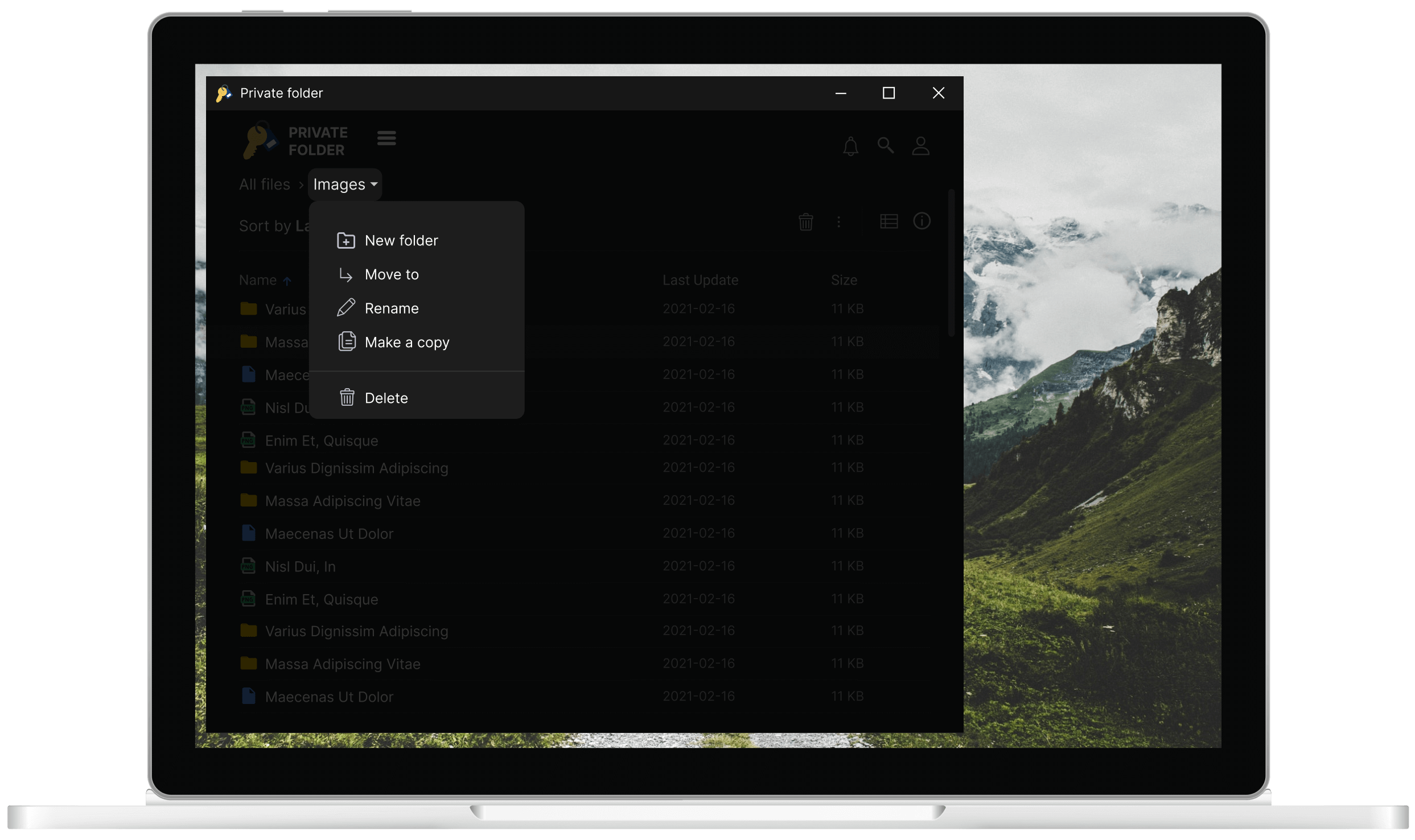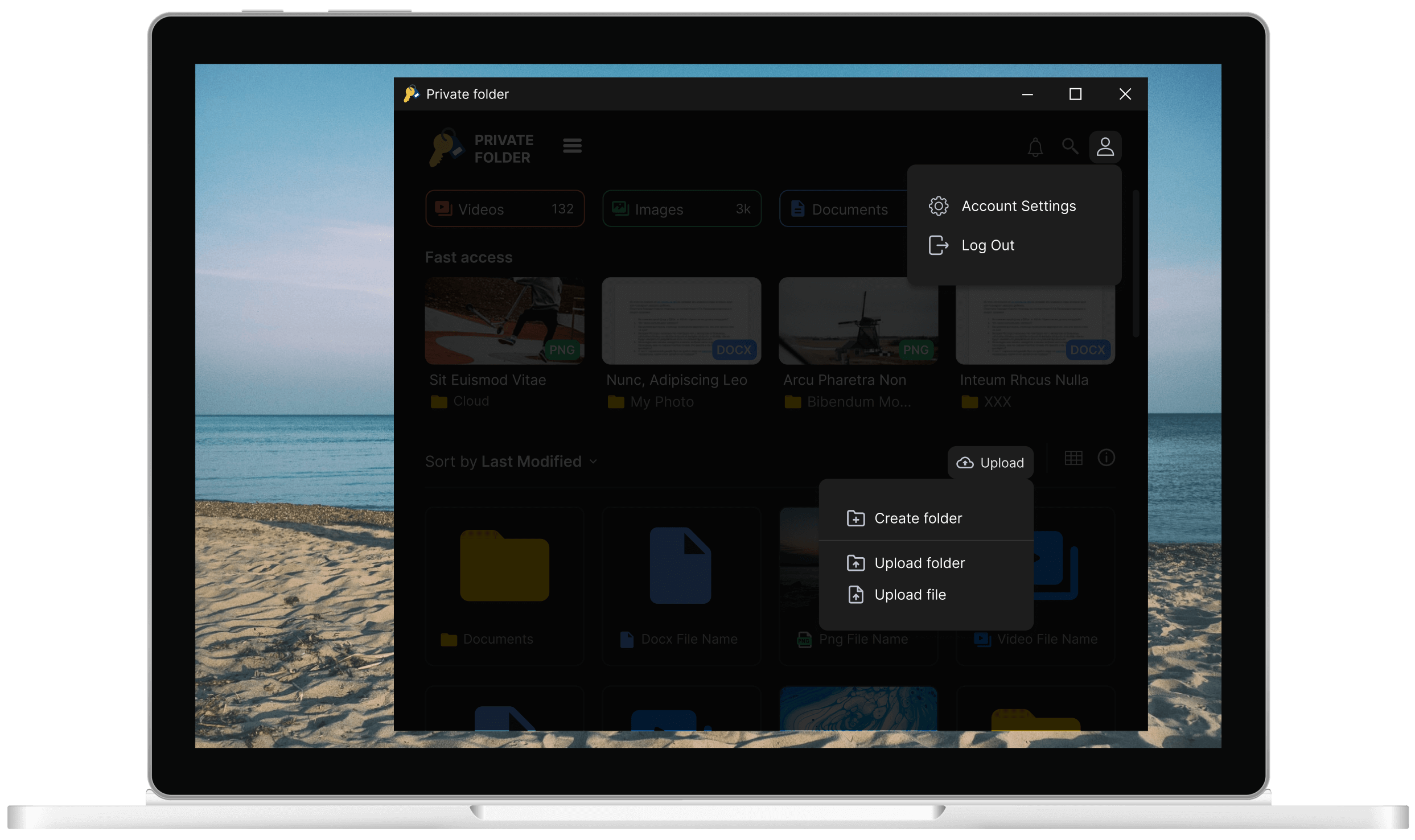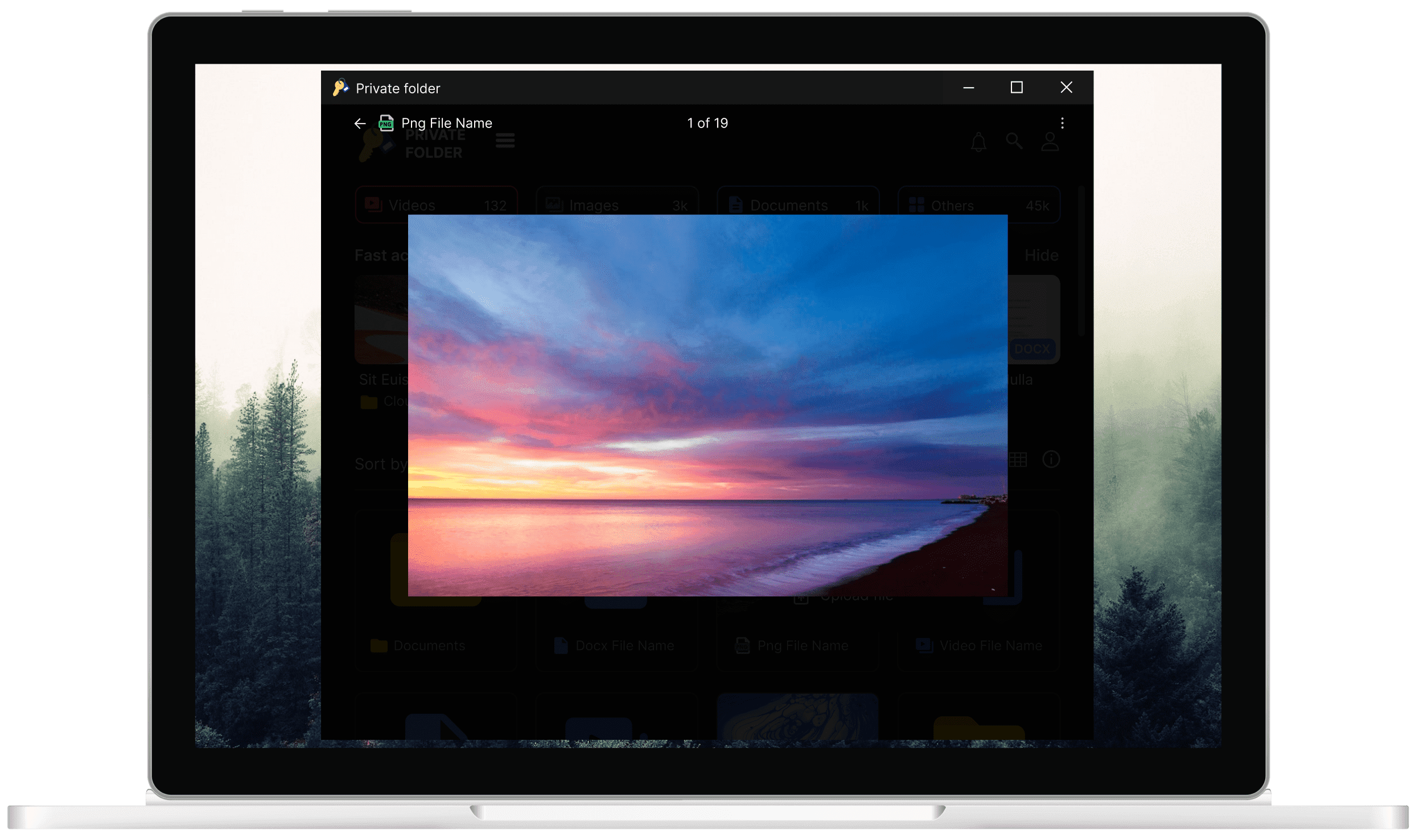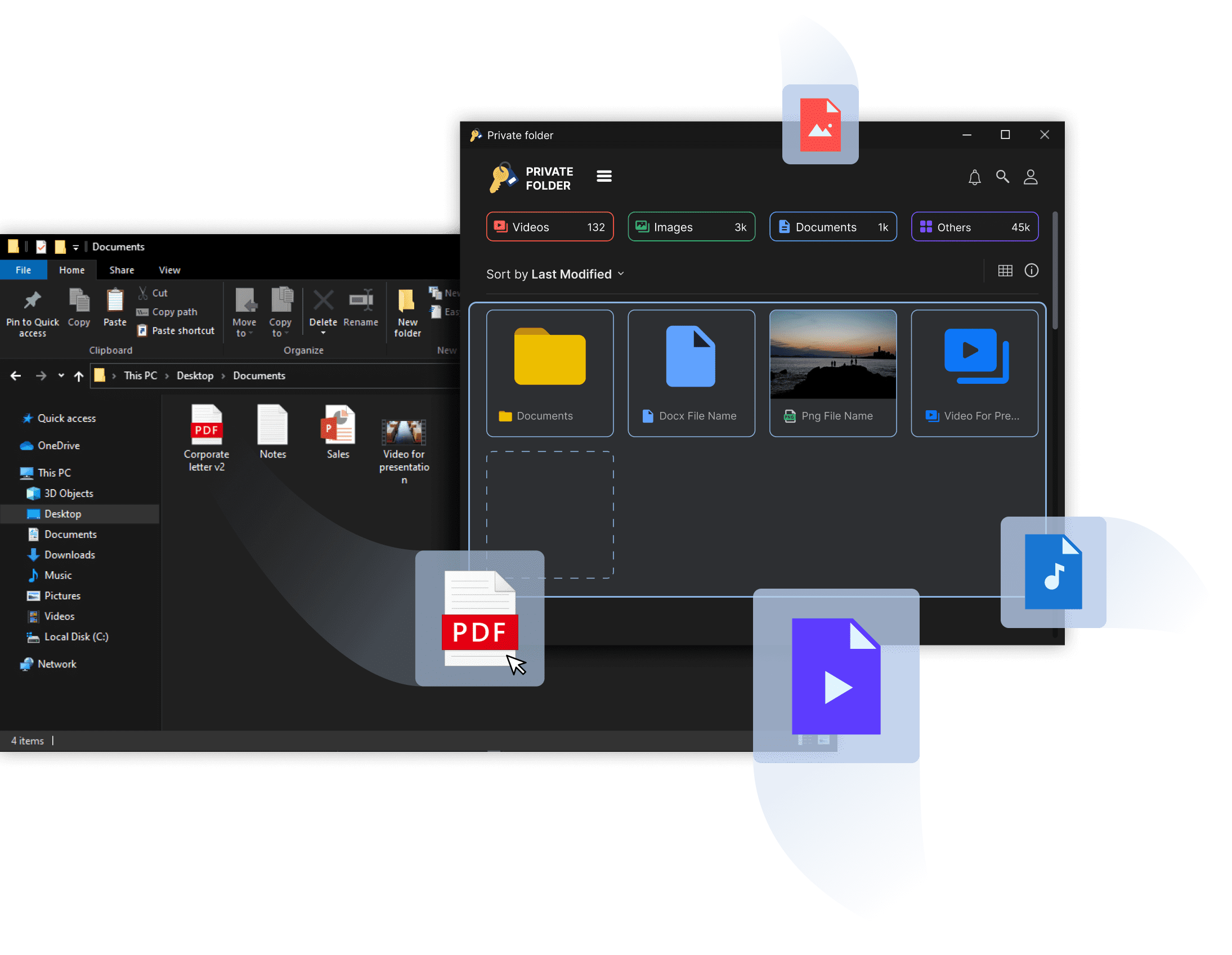 Upload And Hide Any File You Want
No need to download multiple files to safeguard or lock your important data! You can upload all types of files in this app, including MP3, MP4, audio, video, text, document, PDF, Zip files, Images, GIFs and more. Simply drag and drop to upload, select or move files between different sections of this private folder app. Sorting, organizing and deleting files in private mode is now easier than ever! Any file preview, upload or download done through this app will not appear in your history!
Get Access To Your Files From Any Device
Be it your iPhone, Android phone, laptop or desktop, our cross-platform Private Folder app offers you access to your files from any device. Save your files in the private cloud folder and access the content from anywhere on the go!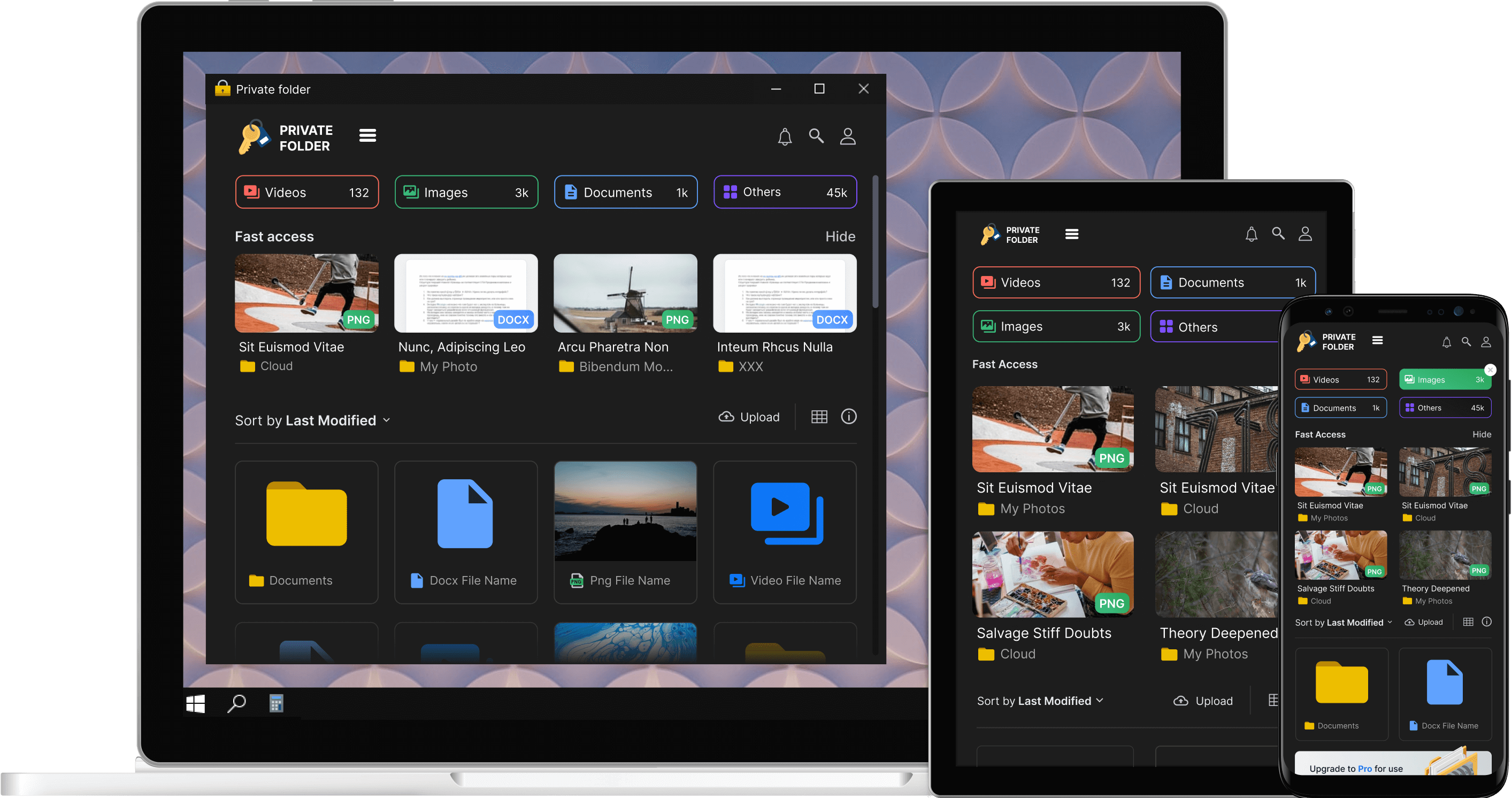 Choose Your Perfect Plan
Enjoy all the features of private folder and more for absolutely free! We offer free cloud storage for basic plan. If you want to upgrade your storage space, you can choose from the following cost-effective plans:
Only YOU Can See Your Private Data
Never worry about anyone other than you accessing your private files again! All the files stored in the private folder are available to access to the private folder owners only. We do not access any data stored in the Private Folders. So, you can rest assured that your private data is in safe hands!
Please note, we do not have access to your data or files. Once you store your private data in this application, it's automatically encrypted to the cloud. At this point, you can access them from any of your devices once you input the right pin on the calculator panel.
Frequently Asked Questions
Are you still wondering whether Private Folder is the right pick for you? We understand that you have some questions like other users. Let us address your concerns!
Yes, you can! Private Folder currently supports a pin code password. We will introduce fingerprint lock and pattern lock soon in the future!
Once You have downloaded Private Folder in your phone or desktop, you can simply use the upload button or Drag & Drop button to add files in the folder. After that, you can set a pin code and a security question. Pick an icon to mask the private folder as a calculator or notepad app and you are good to go!
Private Folder is a cross-platform app which can be accessed from any device. Download it from privatefolder.net in just a matter of minutes.
Private Folder offers an in-app preview of all the stored files. It supports multiple file formats including MP3, MP4, PDF, Text, Docs, PPTs, Images and videos. You can easily manage the files. This cross-platform mask app will work on every device you own!
All the data stored in the private folder is absolutely safe! Only you can access your private data. We will not access or use your data in any case.
Still have questions?
Feel free to contact us anytime. And we will answer your questions accordingly.